Having a great website is vital for a successful nursing home. A great website can bring in new residents, help residents stay in contact with their families, have useful tools, and much more. At YoloCare, we have come up with a list of our top 11 favorite websites, and why they are so great.
Elmbrook Home of Hugo
Website – https://elmbrookhomeofhugo.com/
Elmbrook Home of Hugo's website has a lot of really impressive features working behind the scenes. This website has streamlined, up-to-date back-end security. Their website has SSL certifications, load balancers that act as firewalls, 24/7 server uptime monitoring, bot recognition reCAPTCHA security, and frequent content backups. These premium back-end features make for a truly smooth experience on the front end of the website.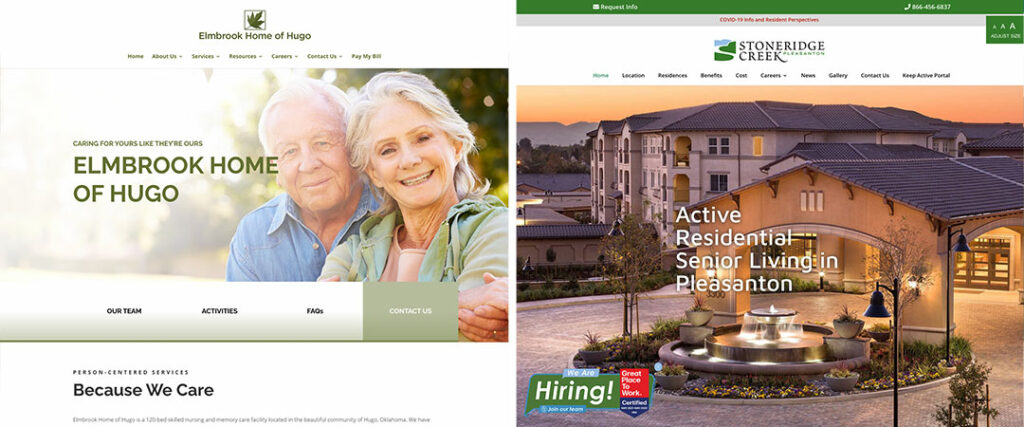 Stoneridge Creek Pleasanton
Website – https://stoneridgecreek.com/
Stoneridge Creek's website is beautiful. The photography is high quality, and they showcase the facility in a stunning way. There were multiple photoshoot sessions to get the community at different times of the day, and to get residents in action to show their amenities. Stoneridge Creek worked with a professional photographer and a photo art director to perfect the photos for their website.
Brookside Rehabilitation & Wellness
Website – https://www.brwsnf.com/
Brookside Rehabilitation & Wellness does an excellent job with ADA compliance on their website. A team of experts made sure every picture, form, and icon had descriptions added for the visually impaired, and their website is accessible for all. They also checked for color contrast issues, keyboard support, skip-to content buttons, and noticeable clickable items. These are vital for universal website success.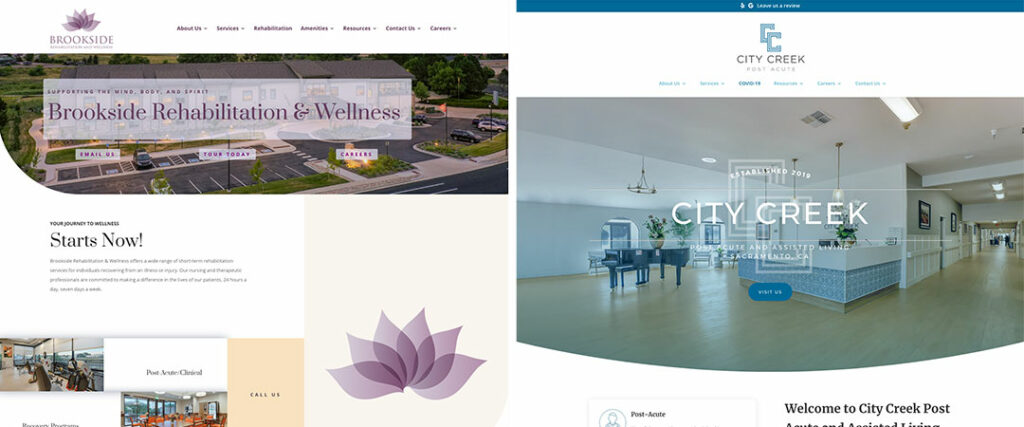 City Creek Post-Acute
Website – https://citycreeksacramento.com/
City Creek Post-Acute does an incredible job with interacting with patients, residents, and their loved ones. City Creek has easy to access areas of their website for posting reviews, contacting them, and scheduling a tour. These features allow City Creek to listen and understand their patients and residents, and they work to integrate feedback into their facility.
University Care Center
Website – https://universitycarecenter.com/
University Care Center's website is sleek, smart, and east to navigate. University Care does an especially great job showcasing their awards, accolades, and reviews. Listed we find 5-star reviews, U.S. News Best Nursing Homes, and that they are members of AHCA and CAHF, and they are a provider for Medi-Cal and Medicare.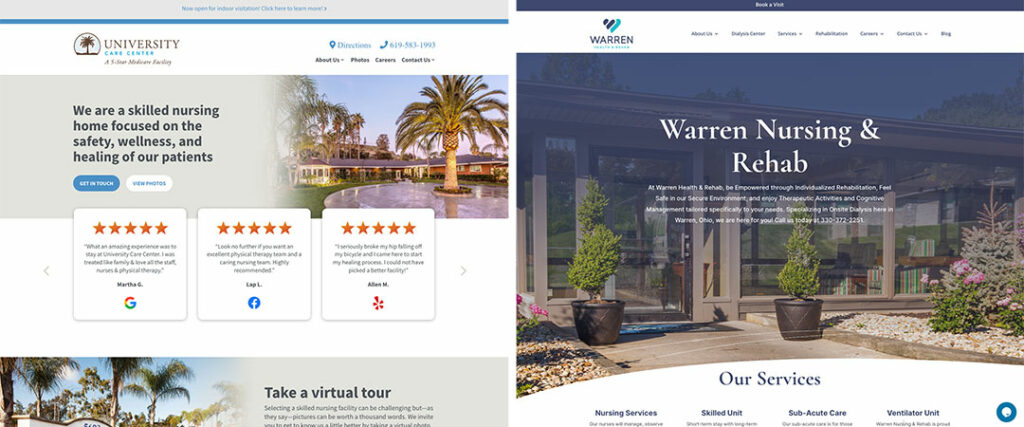 Warren Health & Rehab
Website – https://warren.health/
Warren Health & Rehab does an excellent job displaying and communicating the services they provide, so prospective residents can choose a facility that has everything they need. Warren Health & Rehab also makes it very easy to contact them via phone, message, and chat.
French Park Care Center
Website – https://frenchparkcarecenter.com/
French Park Care Center is a beautifully designed website, that really emphasizes the facility's commitment to a strong nursing and care staff. French Park's website has a link 'Free CNA School,' which also shows a commitment to the career of the employee. Prospective staff can apply online, see unique benefits offered there, and get a feel for all of the benefits available to them if they have a career with French Park Care Center.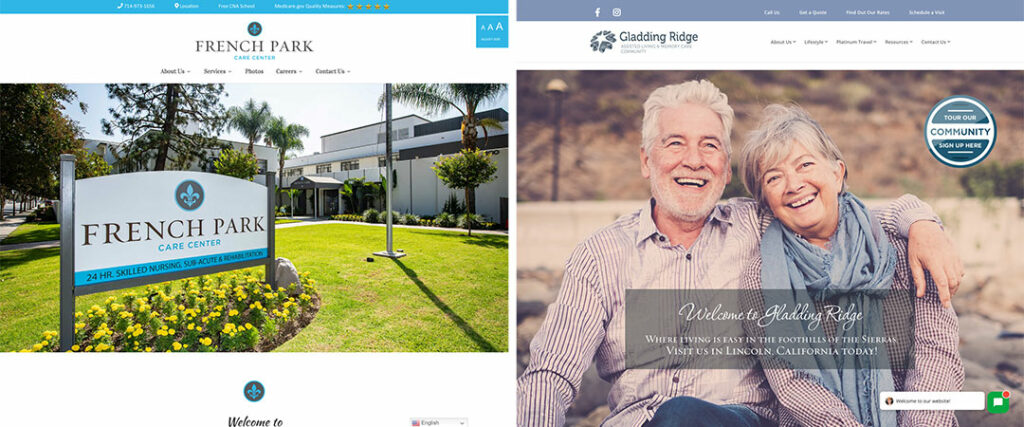 Gladding Ridge
Website – https://gladdingridge.com/
Gladding Ridge is a stand out in nursing home websites, particularly for its unique features for the residents. The Gladding Ridge website displays the monthly activity calendar, it has detailed information about their Platinum Travel Program, and it also has helpful information about lifestyle and amenities.
Quiescence Congregate Living Heath Facility
Website – https://nursecompany.org/
Exploring the Quiescence Congregate Living Health Facility's website is like stepping right into the facility itself. The personalized pictures of each area are inviting, and the virtual tour is especially helpful.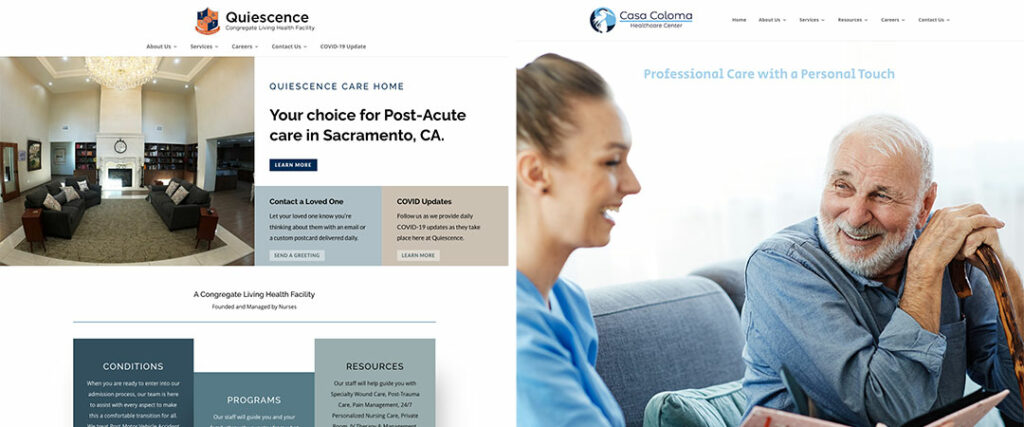 Casa Coloma
Website – https://casacoloma.com/
Casa Coloma's website does an excellent job with utilizing forms. They have a form to schedule a tour, so prospective residents can see the inner workings of the facility, they have a form to contact them for more information or to leave a comment or review, and they also have a form to send a greeting to a loved one that lives in the facility that is delivered the same day.
Oak Ridge
Website – https://oakridgenursingcenter.com/
Oak Ridge Nursing Center's website is a beautiful, easy to navigate website that keeps their website updated with current information. They update COVID protocols or news, calendars, events, and other information frequently, and they even have a portal connected to their website to pay your bill!
If you're in need of a GREAT website, contact us today!